Fri, 29 June 2012
SDConCast #4 - Firefly Fever!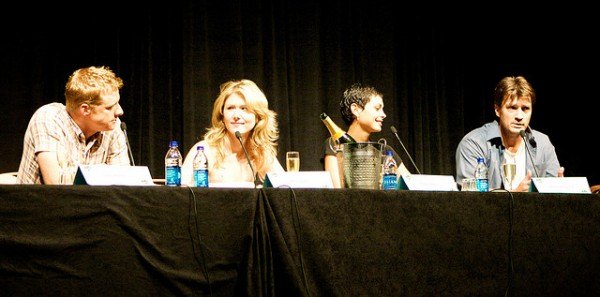 We're back and we have Firefly Fever from the Firefly 10th anniversary reunion news! James, Zack and I are joined this time around by our offsite events expert (Kim) and we get the exclusive on some of the events and panels planned by the California Browncoats straight from the source, Arielle Kesweder, President of the CA Browncoats. And we all pick our favorites from the recently-announced Thursday Comic-Con schedule.
For more information on Firefly's 10th anniversary, check out Firefly: The 10th Anniversary on Tumblr and @Firefly10th on Twitter.
Podcast Links:
Download: 47MB, 1 hour 08 minutes [Direct Link]
The Hosts:
Jeremy Rutz Twitter:@spotanime Website: About Me
James Riley Twitter: @danregal Website: danregal.com
Zack Young Twitter: @SD_Comic_Con Website: SDCCBlog.com
Kim Twitter: @OutsideComicCon Website: SDCCBlog.com
Arielle Kesweder Twitter: @AKAGeekGirl Websites: The Geek Speak Show, California Browncoats
Bookmarks:
01:35 - What we've been doing
13:18 - Offsite Of The Week: SDCC 2012 Offsite Events page
25:18 - Interview with Arielle Kesweder, President of CA Browncoats
37:52 - The news of the week: Firefly Reunion, CCI Badge and Line-Up Policy Changes, Thursday Schedule Announced!
1:03:45 - Newbie Tip Of The Week
Music: Greg Edmonson, Sonny Rhodes. "Firefly - Main Title". Link
---